Boyd Woods Audubon Sanctuary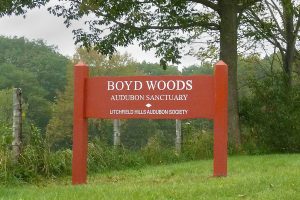 Boyd Woods Audubon Sanctuary, located on Northfield Road (Route 254) in Litchfield, CT., is one of three wildlife sanctuaries owned and managed by Litchfield Hills Audubon Society.
The property was once owned by Margery Boyd, a long-time member of the Litchfield Hills Audubon Society. Margery was an avid birder who for 31 years kept a daily record of the birds seen on the property. She was also considered, by some, a conservationist through her efforts of managing the property for the benefit of birds, animals and all wildlife.
Margery passed away in 1992 at the age of 86, and the property was donated to LHAS in December of 1994 by her cousin and heir, Tanya Tellman.
Welcome to Boyd Woods Audubon Sanctuary
106 acres of diverse habitat
many well marked and managed hiking trails
vernal pools
bordering brook
open to the public
All LHAS' sanctuaries are managed and maintained primarily for the benefit of wildlife, conservation and education.  The sanctuaries are open to the public from sunrise to sunset. Please respect and be kind to the creatures that inhabit the sanctuaries.
stay on marked hiking trails
trails are designed for foot travel only
carry out what you carry in
take only photographs, leave plants for others to enjoy
sensitive ecology, NO pets allowed
bicycles and motorized vehicles prohibited on trails
drones are prohibited