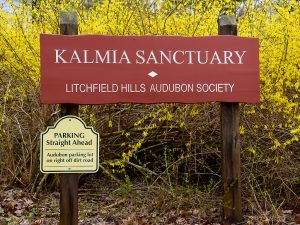 In 1982, Litchfield Hills Audubon Society member Dr. Elizabeth Cooling donated 9.96 acres of her property at the end of Laurel Road in Harwinton to the Litchfield Hills Audubon Society (LHAS) for a nature sanctuary. The sanctuary was named Kalmia, which is the genus name for Mountain Laurel, (Kalmia Latifolia), the Connecticut state flower.
Upon Dr. Cooling's passing in 1991, the house (built in 1880) and the remaining 2.73 acres was turned over to LHAS and added to the sanctuary.
Welcome to Kalmia Sanctuary
13 acres of woodlands and open space
two well marked trails
colorful pollinator garden
a variety of Mountain Laurel
an excellent birding environment
open to the public
All LHAS' sanctuaries are managed and maintained primarily for the benefit of wildlife, conservation and education.  The sanctuaries are open to the public from sunrise to sunset. Please respect and be kind to the creatures that inhabit the sanctuaries.
stay on marked hiking trails

trails are designed for foot travel only

carry out what you carry in

take only photographs, leave plants for others to enjoy

sensitive ecology, NO pets allowed

bicycles and motorized vehicles prohibited on trails

drones are prohibited