Bird Walks & Events  — 2023/2024
To receive program and/or event announcements please send us an email requesting that you would like to be added to our email list at lhasct@me.com
December 17, 2023
Sunday, time variable
Event: Christmas Bird Count
The Audubon Christmas Bird Count (CBC) in our area this year will take place December 17. If you want to help, contact Dave Tripp at dtrippjr@gmail.com and he will put you in contact with the team captain for your area. At the end of the day we will gather at a local restaurant to compile our results and enjoy a meal.
December 17, 2023
Sunday, 11:00 a.m.-12:30 p.m.
Event: CBC 4 Kids!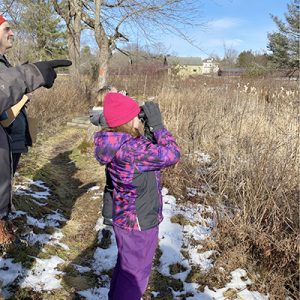 LHAS Nature Explorers will sponsor our second Christmas Bird Count 4 Kids. Children and parents are invited to experience this wholesome family-centered citizen science adventure. We will meet at the White Memorial Carriage House, across from the museum, for a brief orientation. Then we will walk to the feeders outside the museum and around Ongley Pond to count birds by sight, using binoculars, and sound, using the Merlin app. Afterward, we will gather in the Carriage House to tabulate the results and enjoy pizza and cookies. Wear warm jackets and boots. Binoculars will be provided. Bring your own, if you have a pair. Any questions, call Vickie Dauphinais at 860-805- 9167. Pre-registration is appreciated at lhasjunior@gmail.com.
January 1, 2024
Monday, 10:30 a.m.
Event: First Day Hike at Boyd Woods Sanctuary
Looking forward to a fresh start in 2024? Celebrate the new year in the outdoors with a First Day Hike at Boyd Woods Sanctuary. Kids and adults are invited to join our leaders, Rich and Debbie Martin, for a fun, invigorating hike through the woods. They will point out hidden treasures along the way. We never know what awaits us, perhaps a Saw-whet Owl, Red-shouldered Hawk, a Pileated Woodpecker? The hike is about two miles. The terrain is moderate in difficulty. Wear sturdy shoes, and dress for the weather. Bring water and a snack, if you like. Meet at the Boyd Woods parking lot off Route 254 in Litchfield. Please, no dogs. Heavy snow or rain cancels. For information or questions, contact Debbie Martin at barnowl524@hotmail.com.