Wigwam Brook Wildlife Sanctuary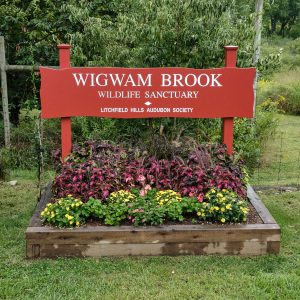 Wigwam Brook Wildlife Sanctuary, located along Connecticut's scenic Route 254 in Litchfield, is a landscape that has seen many changes over the years, some man-made and others by nature. Mowed fields and stonewalls show evidence of former farm land, and an overgrown Christmas tree plantation, (now a haven for many birds) demonstrate another agricultural practice. Wigwam Brook, the sanctuary's namesake, tranquilly flows the length of the property, ponding up now and then along the way, thanks to industrious beavers.
The 36 acre property was acquired in 2008 and Litchfield Hills Audubon Society has been devoted to preserving existing habtats  and enhancing others to attract wildlife species. Change continues volunteers plant trees and shrubs for wildlife. Two American Chestnut orchards, totaling 2 acres, have been planted and managed to help restore this magnificent tree to its former grandeur. Visitors who wish to explore the sanctuary's diverse habitats of fields, woodlands and wetlands, will find a short trail leading into these interesting areas.
Welcome to Wigwam Brook Wildlife Sanctuary
36 acres of diverse habitat
American Chestnut Orchard
beaver ponds
Wigwam Brook
hiking trails
open to the public
All LHAS' sanctuaries are managed and maintained primarily for the benefit of wildlife, conservation and education. The sanctuaries are open to the public from sunrise to sunset. Please respect and be kind to the creatures that inhabit the sanctuaries.
stay on marked hiking trails

trails are designed for foot travel only

carry out what you carry in

take only photographs, leave plants for others to enjoy

sensitive ecology, NO pets allowed

bicycles and motorized vehicles prohibited on trails

drones are prohibited